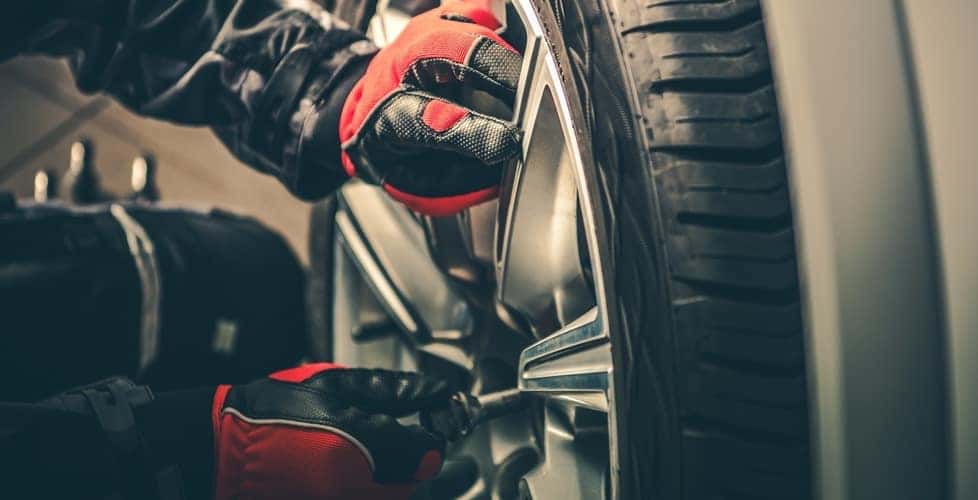 Regular tire rotation is an important part of keeping your Honda car, truck, or SUV running safely on McComb roads. The Mike Whatley Honda Service Center in Brookhaven often fields questions such as:
Why rotate tires?
What does rotating your tires do?
How often should I rotate my tires?
Your Honda dashboard warning lights includes one for the tire pressure monitoring system. You're more likely to see it if you haven't had your tires rotated.
The following guide from our service team will describe what you need to know about tire rotations. If you find that your Honda is due for a tire rotation, schedule a service appointment with us online today!
How Your Drivetrain Affects the Way Your Tires Wear
Your vehicle's drivetrain directly impacts which tires undergo the most wear and tear on the roads in and around Hammond.
Front-wheel drive vehicle: With a FWD vehicle, the two front wheels receive direct power from the engine, which causes the front tires to wear down faster than the rear tires.
Rear-wheel drive vehicle: With RWD vehicles, the engine delivers power to your rear wheels, so the rear tires wear down faster.
All-wheel drive vehicle: With AWD vehicles, the engine sends power to all four wheels evenly, but more often than not, the rear wheels still wear faster than your front wheels.
What Does Rotating Your Tires Do?
During tire rotation at our Service Center, we move the wheels and tires from one position to another to ensure that they receive even tread wear. The rotation pattern is determined by the type of drivetrain your vehicle has. For example, with a FWD vehicle, the front right and left tires are moved to the same right and left positions in the rear, while the rear tires are moved to the opposite right/left positions on the front axle.
How Often Should You Rotate Your Tires?
As for how often to rotate your tires, we recommend that you bring your Honda in for a tire rotation every 5,000 to 8,000 miles. It's best to consult your owner's manual to find out what is recommended for your specific model. Planning on having the tires rotated every time your Honda has an oil change is a good way to ensure that you enjoy even tread wear.
What Happens If I Don't Rotate My Tires?
Why rotate your tires? How often should I rotate my tires? What does rotating your tires do? With answers to these questions, you should now take a look at some of the risks associated with failing to rotate your tires.
Poor traction and skidding on the roads
Decreased fuel economy
Misaligned wheels
More wear and tear on the brake pads
Flat tires and blowouts
Rely on the Service Experts at Mike Whatley Honda
With our state-of-the-art Service Center, certified auto technicians, and current service specials, Mike Whatley Honda makes taking care of your vehicle easy, hassle-free, and affordable. Whether your Honda is due for a routine oil change or tire rotation or is in need of repair work, you can count on us to get the job done and have you back on the road in Collins in a timely manner. If you have any questions, please reach out to our service team. While you're here, be sure to check out our overview of how to jumpstart a car battery and how long an oil change should take.